Currently, in-app marketing is considered the cutting-edge advertising method. Let's delve into what it is and how the types of mobile apps can influence its success.
According to the latest data, between April and June of this year, users downloaded more than 38, 6 billion mobile applications. The extensive volume of downloads indicates that mobile apps have become an integral part of our daily lives.
Furthermore, mobile apps not only have a strong user following but also present developers with lucrative monetization prospects. while offering advertisers highly effective promotional avenues.
Mobile Apps: Categories and Features
A mobile application is software that is installed on a mobile device, such as a phone or tablet. It is often developed for various operating systems and can vary in terms of structure, functionality, and purpose.
The primary goal of a mobile application is to satisfy the user's needs, which can range from ordering a taxi to photo editing or solving crossword puzzles.
Mobile apps are generally categorized into three categories based on how they work:
native apps
web apps
hybrid apps
Native apps
Native applications are individually developed for each platform and enable the full utilization of the device's capabilities.
Developers choose their programming language for different operating systems. For Android, it's Kotlin and Java, while for iOS, it's Objective-C or Swift. An example of a native application is the music search service Shazam.
By the way, you can target the Shazam music service on the BYYD programmatic platform. For instance, in this case, it's included in the selection of apps when promoting an automotive brand.
Web apps
Web applications are applications that can be used without downloading and installing them on a smartphone, tablet, or computer.
In this case, the user's device gains online access to data without the need to install the app in permanent memory. Examples of web applications include webmail services like Gmail and text editors like Google Docs.
Hybrid apps
Hybrid applications are a combination of native and web applications. They are installed like regular apps but utilize a WebView to load web pages.
This allows them to access device data and remain versatile without requiring the installation of a separate browser. Examples of hybrid apps include Uber and Evernote.
Types of Mobile Apps
However, mobile applications are not limited to just their operational characteristics. Another crucial aspect of their classification is the categorization into various types.
In the digital landscape, applications are categorized in diverse ways by experts. However, we will outline four key types: commercial, social, content-oriented, and gaming.
Let's delve into each type of mobile app in more detail.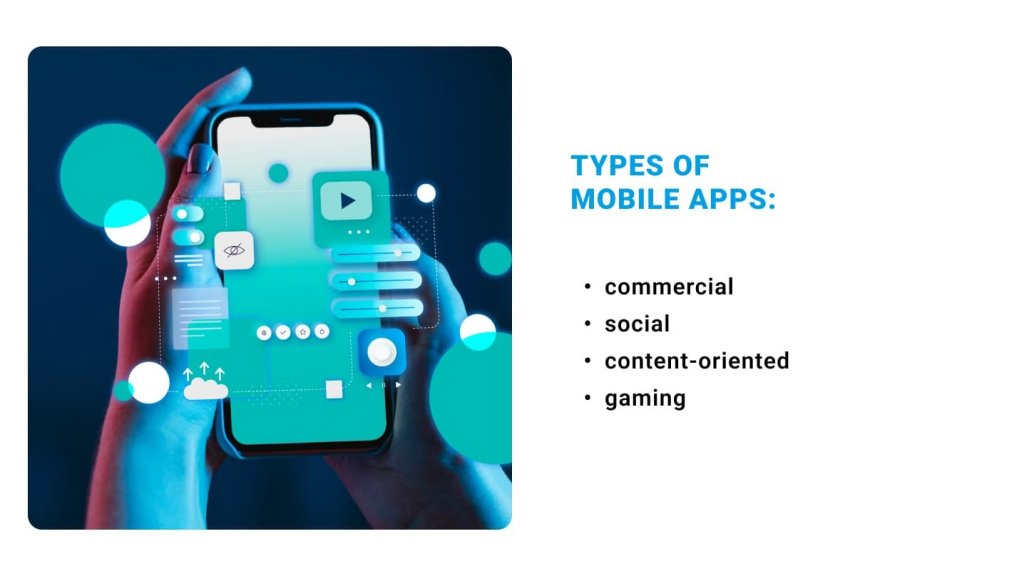 Commercial apps are those where users can order goods or services and make payments. They are popular among companies for attracting customers and increasing sales.
Commercial applications include online stores where you can buy clothes, shoes, cosmetics, as well as applications for ordering cabs or making appointments with specialists.
Social platforms, or in other words, social networks, are primarily designed for communication via mobile devices.
Furthermore, on these platforms, users can communicate, view news, as well as advertise and promote blogs, which is beneficial for advertisers to keep in mind.
These are services like Instagram, TikTok, Gmail, Snapchat and so on.
Check out the article about the new Meta app on our website.
Content applications provide users with quick access to up-to-date information. Users can find information about the latest news from publications, currency exchange rates, or useful blogs related to relevant topics.
In this way, content platforms help users stay informed and develop in various fields.
On the BYYD platform, we have access to popular content applications. As an example – Daily Mail Online, Flipboard and Reuters News.
Games/Entertainment Mobile Apps
Gaming applications are mobile device applications, typically designed for smartphones and tablets, with the primary goal of providing entertainment through interactive games.
Gaming applications can encompass a wide variety of genres, ranging from puzzles and arcade games to strategy games and shooters.
According to the Digital 2023 July Global Statshot report for this year, the most popular genres across different age groups continue to be shooters, adventure action games, and puzzles.
In-App Promotion: Which Types of Mobile Applications Are More Profitable for Advertising?
As previously mentioned, advertising within mobile applications is an effective tool for brand promotion. However, advertisers often wonder which type of application will yield the best results.
Our answer is simple: the best results are achieved when advertising aligns with users' interests and seamlessly integrates into their daily activities.
However, experts recommend incorporating advertisements within mobile games. For instance, as per eMarketer's insights, with publishers investing in high-quality gaming experiences that can compete with premium desktop games, the mobile gaming industry is poised for sustained growth.
This suggests that advertisers should prioritize this platform to tap into the expanding and engaged mobile gaming audience. It's already confirmed by data: in 2023, users prefer to play games using smartphones and tablets. The share of such gamers is 79.9%.
On the BYYD platform, we offer advertisers the opportunity to launch advertising campaigns across a diverse range of mobile applications, including mobile games.
We have the capability to tailor targeting towards gaming applications for various age groups, taking their interests into account.
For example, our list includes games like My Talking Tom, Block Puzzle Jewel, Angry Birds Epic RPG, Subway Surfers, Dragon City Mobile and others.
However, this list is not exhaustive, as our platform offers access to a wide range of applications. We believe that the best results come from diversifying across various application categories, including utilities, widgets, photo editors, and more.
You can read the 5 benefits of in-app advertising here.
Here is an example of mobile advertising on the BYYD platform.
Recently, we executed a mobile campaign for the Burger King brand.
Our primary goal was to attract the target audience to the Tıkla Gelsin app and enhance user awareness of a new promotion. To achieve this, we fine-tuned socio-demographic characteristics and selected relevant interests, such as cooking, shopping, groceries, coupons, home, and garden.
For this particular campaign, our platform's Production department designed an interactive Rich Media banner. It engaged users by allowing them to interact with the advertisement and select a burger according to their preferences.
This not only entertained users but also provided them with essential information for taking further action.
Additionally, at the campaign's outset, we strategically targeted specific app categories for our advertisements.
As a result, in the promotion of video ads, we achieved a CTR of 5%, surpassing the market average of 4.5%. Furthermore, we exceeded the VTR value by 22.55%.
Regarding the promotion of the Rich Media banner, we achieved a CTR of 2.03%.
Here's an example of apps for promoting cafes and restaurants. You can also explore mobile advertising specifics for this category by clicking this link.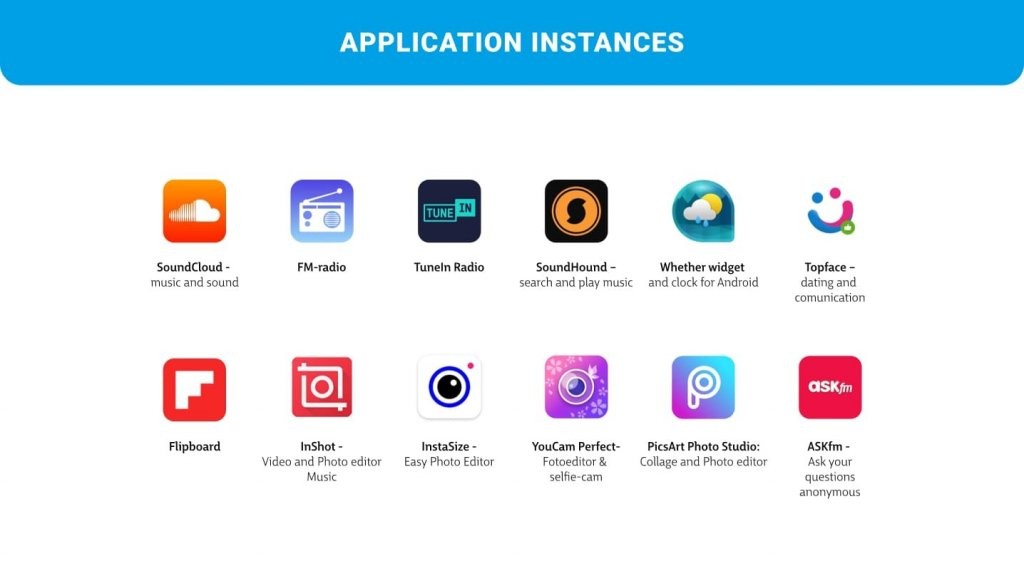 Concluding Remarks
Mobile applications are software installed on phones or tablets. In terms of functionality, they can be categorized into three categories: native applications, web applications, and hybrids.
A crucial aspect of mobile applications is their classification into different types, including commercial, social, content-based, and gaming, among others.
Advertising in mobile games offers several compelling advantages. It provides access to a massive, highly engaged audience and allows for precise targeting based on user behavior and preferences.

This is supported by data from Insider Intelligence, which indicates a steady growth in interest in in-app advertising.
In today's digital landscape, leveraging the power of mobile applications for advertising is a strategic move. With BYYD's expertise, you can harness this potential to connect with your target audience effectively and achieve your marketing goals.
On the BYYD platform, we are ready not only to assist you in selecting the most suitable types of mobile applications but also to fine-tune precise targeting, ensuring that you reach your business objectives.
Was it useful? Then share it with your friends and colleagues!
For consultation and cooperation, please contact hello@byyd.me