Products and services for women's mental and physical health hold a significant share of the global market. Brands employ various methods to reach their target audience. However, one of the most effective approaches today is advertising in period tracker and fertility apps, and other women's health applications.
Today, let's discuss women's health marketing. We will explain what programmatic advertising is and how it helps brands promote their products and services in women-focused app categories.
What is programmatic advertising
Programmatic advertising is a format where the buying and selling of advertising space occurs automatically. This format does not involve direct communication between the advertiser and the platform owner.
To initiate programmatic advertising, all you need to do is reach out to the relevant programmatic platform. It will assist you in identifying your target audience and configuring automatic ad placements on selected platforms.
Learn more in our FAQ guide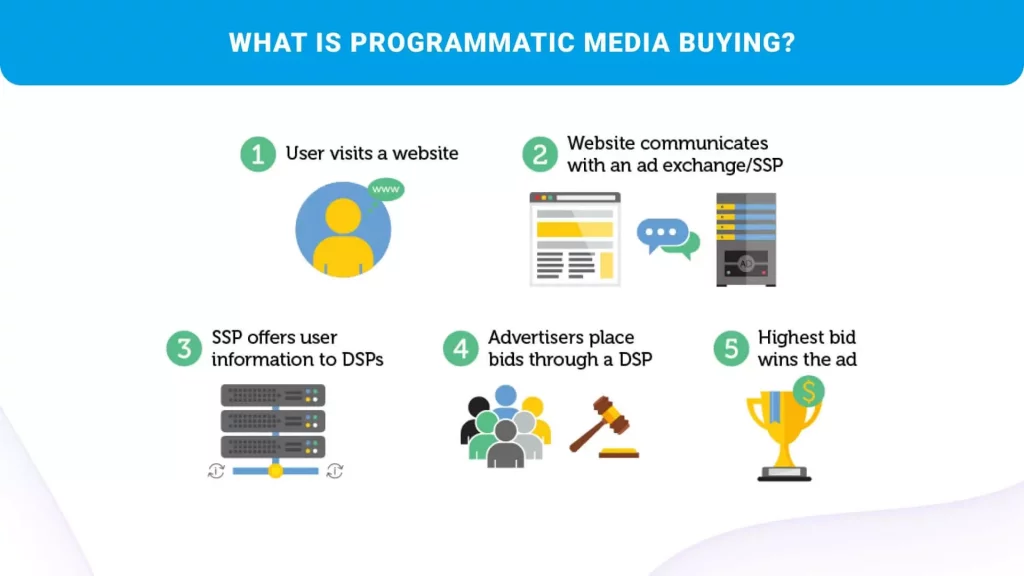 How to find a female users in mobile apps
Targeted advertising is an essential tool for reaching a specific audience. This is precisely why we employ it within advertising campaigns on our platform.
For instance, if an advertiser needs to locate a female audience with specific characteristics, the targeting tools of the BYYD platform can assist in achieving this goal.
In BYYD, you can customize targeting based on:
Socio-demographic factors
Relevant interests
Device language
Operating system
App categories
Moreover, our platform offers retargeting capabilities based on Device ID. To delve deeper into all the possibilities offered by BYYD, you can explore further details through this link.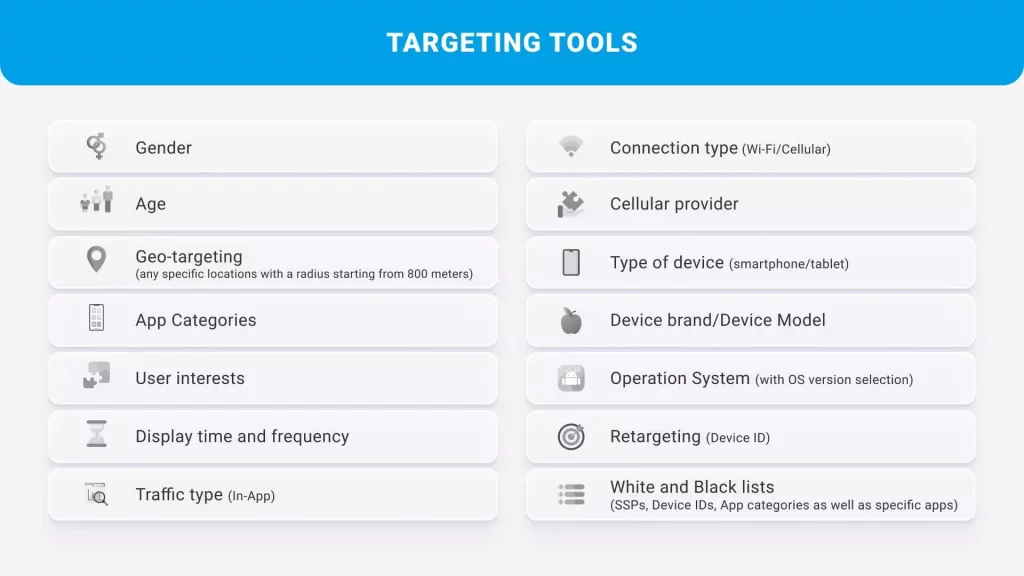 Returning to the topic of women's apps
As mentioned earlier, one of the targeting tools involves configuring app categories. In this case, if an advertiser wishes to exclusively target specific women-centric themes or simply include them in the list of placements, we can easily accommodate this.
For instance, if a brand wants to reach an audience interested in women's health and wellness, we can specifically target applications related to that category. This precise targeting allows advertisers to effectively reach their desired audience in the women's apps.
How pharma companies can advertise on mobile apps – learn from this article.
The BYYD platform provides the opportunity to advertise in women's health apps within the following categories
Period Tracking Apps
Ovulation tracking apps
Pregnancy tracking apps
Breastfeeding apps
Here is a list of women's health app categories for mobile advertising placements
Menstrual and ovulation tracking apps
Period Calendar Period Tracker
"MyDays X Women Cycle Calendar"
Period Diary Ovulation Tracker
Maya – My Period Tracker
LADYTIMER Period Tracker
Period Tracker: Monthly Cycles
My Calendar – Period Tracker
Period Tracker – Pepapp
Pregnancy tracking apps
Curiosity Lab-Age&Baby Explore
Pregnancy Tracker – BabyInside
Календарь беременности – Momly
Pregnancy and Due Date Tracker
Календарь беременности по дням
Mutlu Anne – Happy Mom Hamilel
Mutlu Anne • Hamilelik Takibi
Hamilelik Takibi
Hamile Rehberi
Gebelik hamilelik takibi
Hamilelik Takibi – Elika
Hamilelik Haftası Hesaplama
Gebelik Hamilelik Takibi
Gün Gün hamilelik Takibi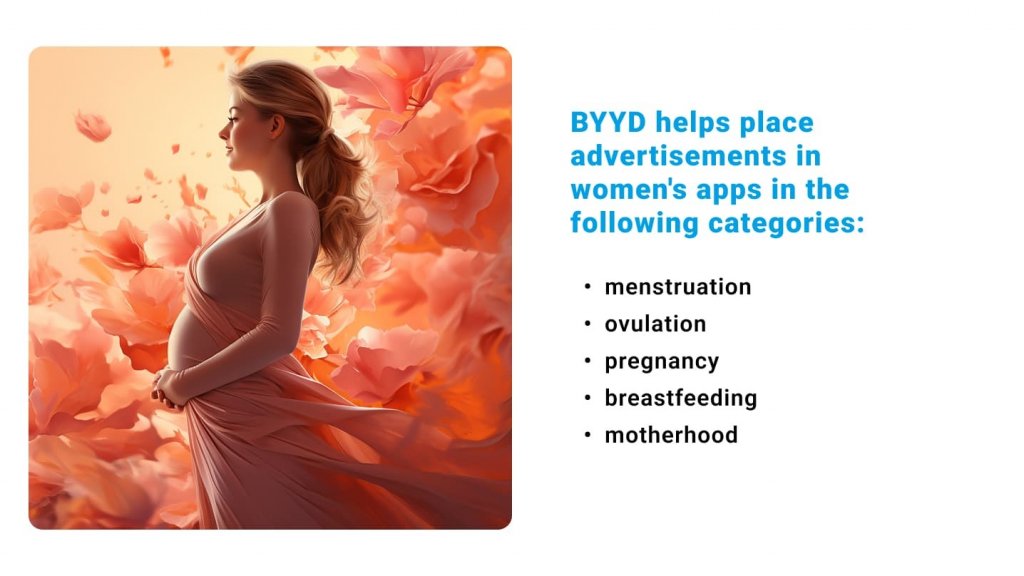 Moms and parenting apps
Baby Tracker – Newborn Log
Pregnancy + | Tracker App
amma Pregnancy & Baby Tracker
Baby tracker – feeding, sleep
Pregnancy Tracker – BabyCenter
Pregnancy & Baby Tracker – WTE
Pregnancy Tracker
Baby: Breastfeeding Tracker
Baby Sleep – White Noise
Cute Baby Stickers: Jin Miran
BabyGenerator Guess baby face
Baby Video Maker With Song
Baby Photo Frames
Baby Sleep Sounds – White Noise Generator
Baby Stickers for WhatsApp
Baby Photo Frames
Baby Photo Editor
Baby Sleep Sounds
Baby Month Complete Photo Frame – Baby Collage
Kids Frames
Happy Kids • Bebek Gelişimi
Happy Kids • Bebek Gelişimi
Perfect365 Makeup Photo Editor
Guess Future Baby Face – Make your future baby
Play Band – Digital music band for kids
My Talking Tom
My Talking Angela 2
Woodoku
Tile King – Triple Match
Words of Wonders: Crossword
Candy Crush Saga
Craftsman: Building Craft
X2 Blocks: 2048 Number Games
Sudoku – Classic Sudoku Puzzle
Eerskraft – Explorations
As an example, let's take Weleda brand advertising in women's apps.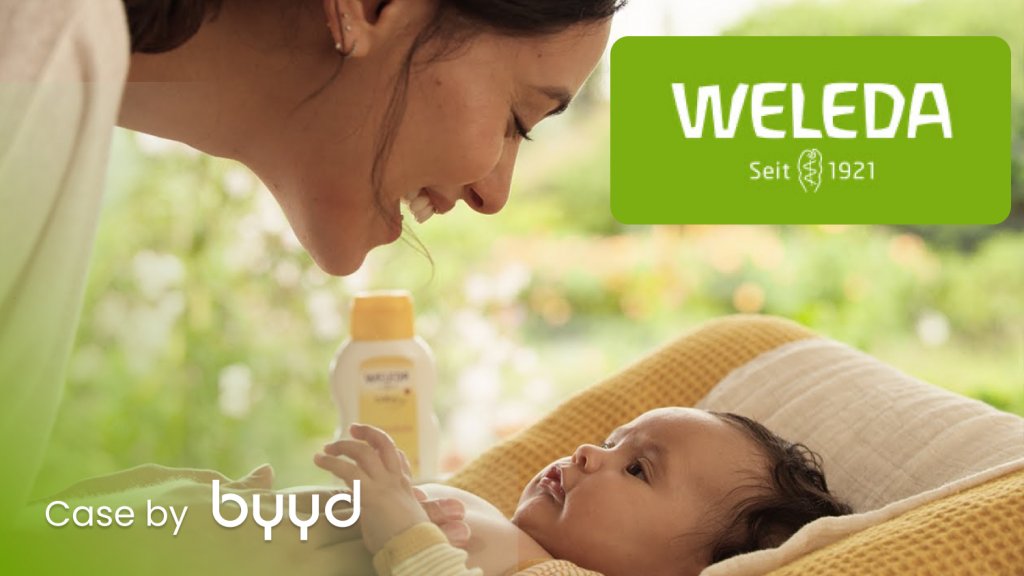 Recently, a mobile campaign for Weleda was launched on the BYYD platform. Our goal was to increase brand awareness and drive targeted traffic to the website using mobile programmatic advertising.
To achieve this, we meticulously crafted our campaign, focusing on specific demographic groups and relevant interests. This involved engaging users with moderate to high incomes who were interested in topics such as maternity, health, wellness, sports, beauty, fashion, and shopping.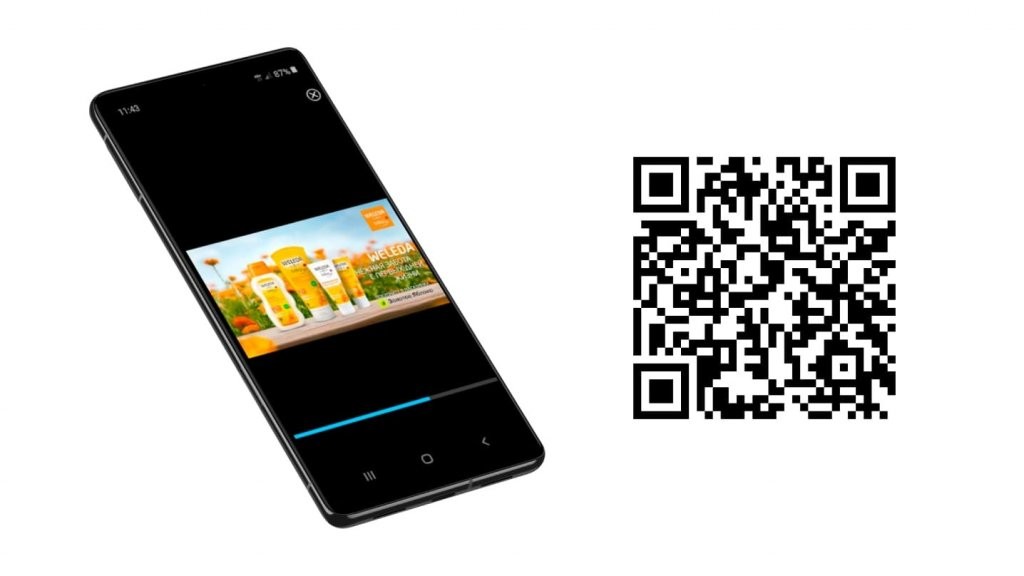 The results were remarkable, as the first flight achieved a CTR of 1.88%, and the second flight performed even better with a CTR of 1.9%.
In conclusion
As we say, advertising in women's apps is an effective way for brands to get their message.
By the way, we provide a wide variety of app categories. This enables every advertiser to find a suitable category and launch their mobile advertising campaign successfully.
With such diverse options, advertisers can precisely tailor their campaigns to connect with their desired audience in a highly effective manner, making the most of the BYYD platform's capabilities.
Was it useful? Then share it with your friends and colleagues!
For consultation and cooperation, please contact hello@byyd.me