Apple's fall brand presentation, known as Apple Event 2023, took place on September 12. During this event, the company presented updated devices, including iPhone 15, Apple Watch Series 9, iPhone 15 Pro and others.
Let's take a closer look at the features of each device and try to understand how the new products from Apple Event 2023 could impact the mobile gaming industry.
iPhone 15 и 15 Plus
The iPhone 15 comes in a couple of different sizes. A standard version with a 6.1-inch screen and a Plus version with a 6.7-inch screen.
Both models are available in five different colors: pink, yellow, green, blue, and black. Other than the rounded edges and a matte back panel, the device looks quite similar to the previous version.
Additionally, the creators have embraced an eco-friendly approach by using 75% recycled aluminum in the device's construction.
One more important update is that Apple has done away with the Lightning connector. Now, all phones in the iPhone 15 series will feature a universal USB-C port.
This change was prompted by the European Union's requirement for manufacturers to implement USB-C in all popular gadget categories. USB-C ports are already built into the latest iPad and MacBook models.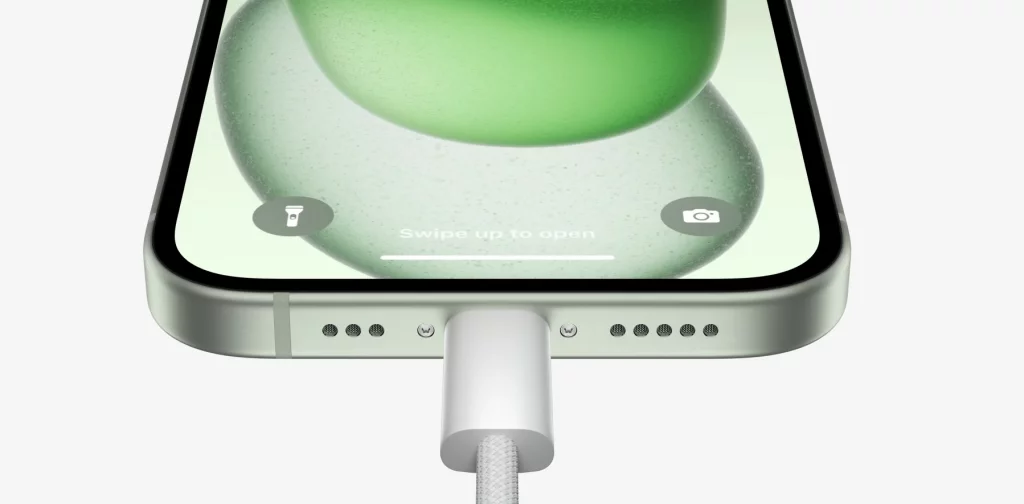 Furthermore, the iPhone 15's display has become significantly brighter. 1600 nits in HDR and 2000 nits outdoors, which is twice as bright as the iPhone 14. According to experts, this improvement will greatly enhance the quality of HDR photos and videos.
Additionally, all models now come with a special chip designed to save energy and extend the smartphone's battery life. It will manage screen brightness, refresh rate, and other display settings.
iPhone 15 Pro и 15 Pro Max
A notable feature of the iPhone 15 Pro and 15 Pro Max is the aerospace-grade titanium case, which replaces the stainless steel used in previous models. According to the brand representatives, these are the lightest iPhone Pro models ever.
The design of the Pro devices is very similar to the iPhone 15, with the same size options of 6.1 and 6.7 inches.
Also, in the iPhone 15 Pro and 15 Pro Max, the audio mode switch has been replaced by an Action button that can be customized for different actions.
Here's another interesting fact. The ability to capture Spatial Video is now available for the Apple Vision Pro headset. This mixed-reality headset was introduced at Apple's annual WWDC 2023 event.
You can find a review of it on our blog.
One more important thing to note is that the iPhone 15 Pro now has a powerful A17 Pro processor that supports ray tracing. This means that mobile gaming is going to get a lot better soon.
Apple also announced that the Resident Evil 4 remake and games like Resident Evil Village and Assassin's Creed Mirage will be released for the iPhone 15 Pro between 2023 and 2024.
In the future, we may see the adaptation of many popular desktop video games for mobile devices. To stay ahead of the game, it's wise to start using in-app advertising to grab users' attention for your brand right away.
Register on our programmatic platform. We'll help you place advertisements in popular mobile apps across the globe.
Apple Watch Series 9
The new generation of Apple Watch comes with several user-friendly updates.
The new Apple Watches come in aluminum (5 colors) and stainless steel (3 colors). They bring upgrades such as enhanced graphics powered by the S9 processor, a brighter display (up to 2000 nits). And eco-friendly bands, replacing leather options.
The double tap feature has become a favorite among Apple Watch Series 9 users. It enables you to control your phone by simply double-tapping with your index finger and thumb. This intuitive gesture can be used to switch music, silence notifications, or decline incoming calls.
Apple Watch Ultra 2
The Apple Watch Ultra 2 is designed for athletes. New features of this smart device will allow you to dive up to 40 meters deep and ascend to heights of up to 9,000 meters.
Additionally, key enhancements include the S9 chip, a brighter display (up to 3,000 nits), and gesture support, similar to the Apple Watch Series 9.
The device boasts a claimed battery life of up to 36 hours in normal mode and an impressive 72 hours in power-saving mode.
iOS 17 Update News
Another important update: starting from September 18th, the new final version of iOS 17 is available to all Apple users.
Now, iPhone owners can personalize the contact screen for incoming and outgoing calls. Additionally, they can easily share files and contacts with other iPhone or Apple Watch owners using the AirDrop feature. All you need to do to exchange data is simply bring the devices close together.
Furthermore, users will be able to:
Track not only their physical activity but also their mental health through the "Health" app.
Organize tabs in Safari by separating them into personal and work categories. Our BYYD team will be keeping a close eye on how this will affect targeting tools in the future.
iMessage now offers free transcription of voice messages. The system will automatically transcribe the message and display its text version beneath the audio recording.
Who can install the iOS 17 update
The iOS 17 update will become available for all supporting devices over time. Currently, the final version of iOS 17 is compatible with the following devices:
iPhone 15 / 15 Plus / 15 Pro / 15 Pro Max
iPhone 14 / 14 Plus / 14 Pro / 14 Pro Max
iPhone 13 / 13 Mini / 13 Pro / 13 Pro Max
iPhone 12 / 12 Mini / 12 Pro / 12 Pro Max
iPhone 11 / 11 Pro / 11 Pro Max
iPhone XS / XS Max
iPhone XR
iPhone SE (2020)
iPhone SE (2022)
Notably, the list does not include the iPhone X, iPhone 8, and 8 Plus.
We covered the features of iOS 17 in detail here.
In conclusion
Apple's focus on environmental sustainability is clearly a significant step forward. By transitioning to eco-friendly materials, adopting the USB-C connector, and committing to carbon neutrality, they are setting a positive example for the tech industry.
Ultimately, Apple's success in this environmental endeavor hinges on its ability to stick to these eco-friendly initiatives. While continuing to create innovative and appealing products for its worldwide customers.
The New Era of Video Games
Every year, Apple expands the capabilities of its smartphones. And now, thanks to the bright screen and fast processor, the speed and graphics in mobile games are only getting better.
All this will certainly affect the video game industry.
According to various reports, the gaming audience is growing every year. For sure, after the fall presentation, the growth rate may accelerate significantly. Especially after the launch of such iconic games as Resident Evil 4, Resident Evil Village and Assassin's Creed Mirage on the iPhone 15 Pro.
Mobile games are convenient and comfortable, no matter where you are. That is why they are a strong competitor to computer games.
If you want to boost the popularity of your brand and improve your image in the media landscape –advertising in mobile applications is an excellent strategy. We can place advertisements in the most popular gaming apps for you. Additionally, we offer placements in utilities, widgets, planners, and various other categories.
So if you want to try mobile app advertising, now is the time to do it!
Was it useful? Then share it with your friends and colleagues!
For consultation and cooperation, please contact hello@byyd.me