The lifestyle of a typical modern person is vastly different from what could be observed just 15-20 years ago. It can be described as "busy" and "always-on". Mobile devices providing the user with easy Internet access have certainly played a big part in creating this lifestyle. All aspects of everyday life and business have been affected: communication, education, entertainment and, of course, commerce. A recent study conducted by IAB (US) together with 17 IABs throughout the world aims to highlight the latest trends in consumer behavior among mobile Internet users and to assess their reactions to mobile ads. This article is going to focus on the major takeaways of the research.
IAB's study was conducted across 18 countries, including Russia. There were 200 respondents from each country; all respondents had to be smartphone owners and to regularly access the Internet via mobile devices.
One of the study's most prominent findings is the sheer frequency of mobile device usage throughout the world. 63% of respondents use a mobile device at least every 30 minutes, with about 20% using their smartphone as often as every 5 minutes; this usage includes everything from checking the time and making phone calls to accessing the Internet. This trend is especially strong in South America: 29% of its respondents spend at least 6 hours a day using a mobile device. This heavy mobile usage is also typical of China (31%).
Frequency of Mobile Device Usage (on a typical day)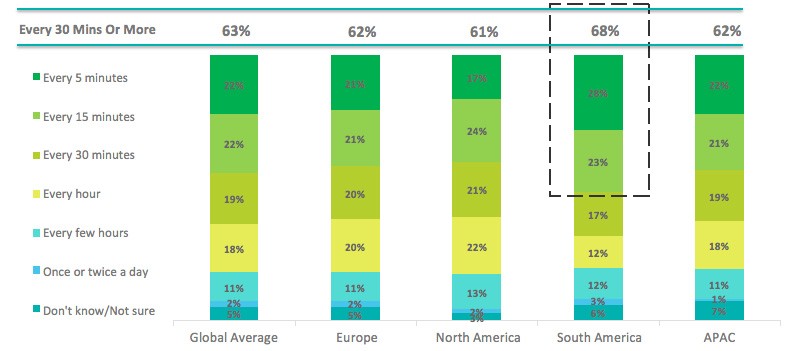 Time Spent on Mobile (on a Typical Day)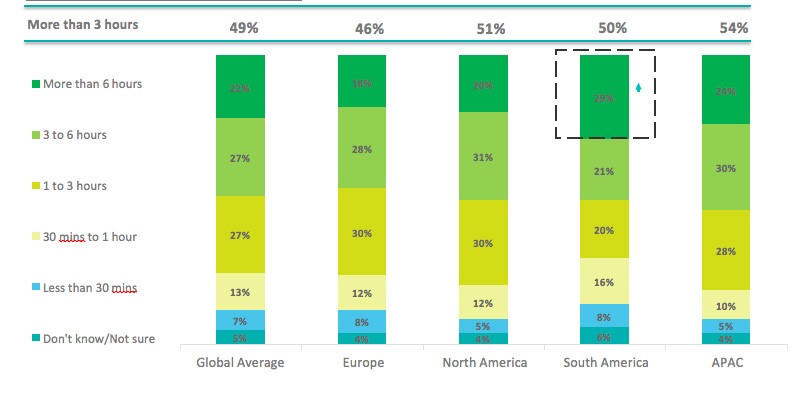 Using Mobile Device More Than 6 Hours (on a typical day)

Speaking of advertising, IAB's research uncovers high efficiency of mobile ads. An overwhelming number of mobile users (88% and 84% for mobile web/apps, respectively) access the Internet via mobile web and/or apps on a daily basis, often doing it multiple times a day. Those users also showcase high awareness of mobile advertising: almost all of them (90% for mobile web, 86% for mobile apps) remember seeing mobile ads over a few days since the initial showing, and about half of them have somehow interacted with the ad (in Russia, the most common action is visiting the brand's website after seeing the ad).
Frequency of Usage

Recall of Mobile Advertising on…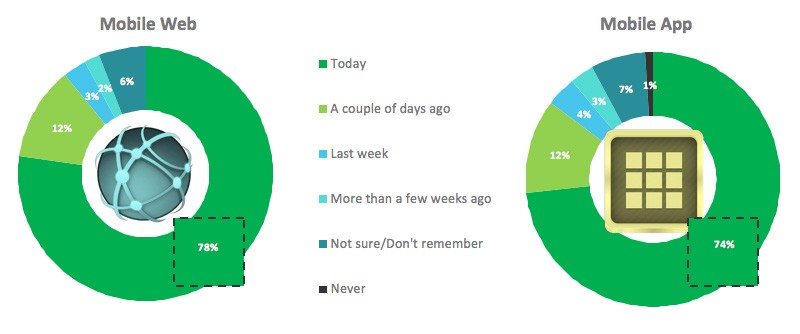 Any Action After Mobile Advertising Exposure

Specific Action After Mobile Advertising Exposure – Global Average

Mobile Web: Actions – Europe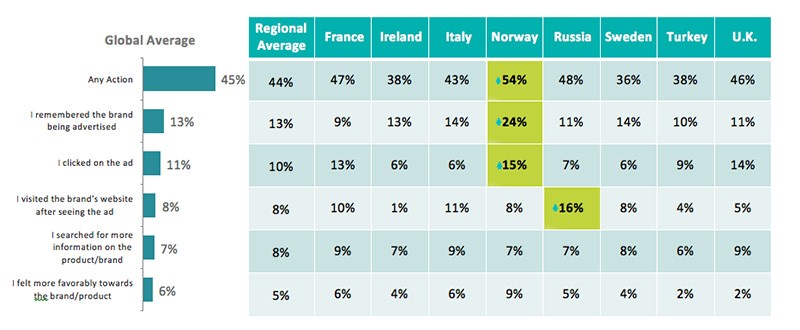 Mobile App: Actions – Europe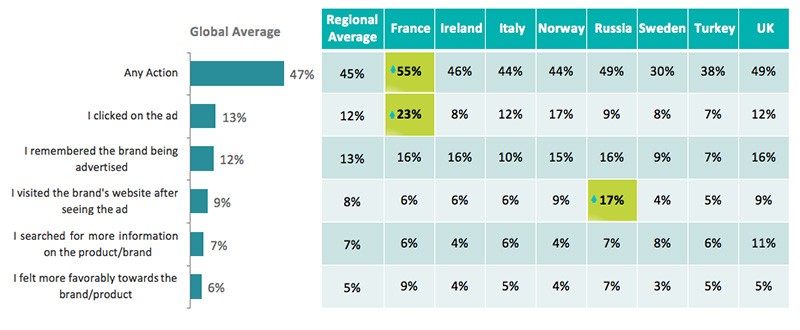 The respondents have noted improvements both in the loading speed and in creative value of mobile ads; the most progress has been observed by users from Brazil, Russia and South Africa. At the same time, the increased amount and intrusiveness of mobile ads has been bothering many respondents from all over the world. However, French and Brazilian mobile users have noted some improvements in ads' relevance.
Summary – Mobile advertising perception compared to a year ago

Speed Net Change Index (Faster – Slower)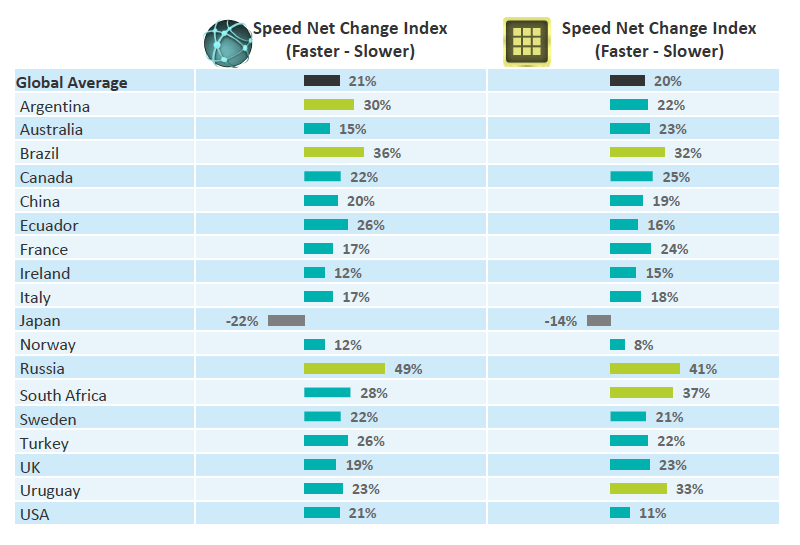 Creative Quality Net Change Index (Better Quality – Lower Quality)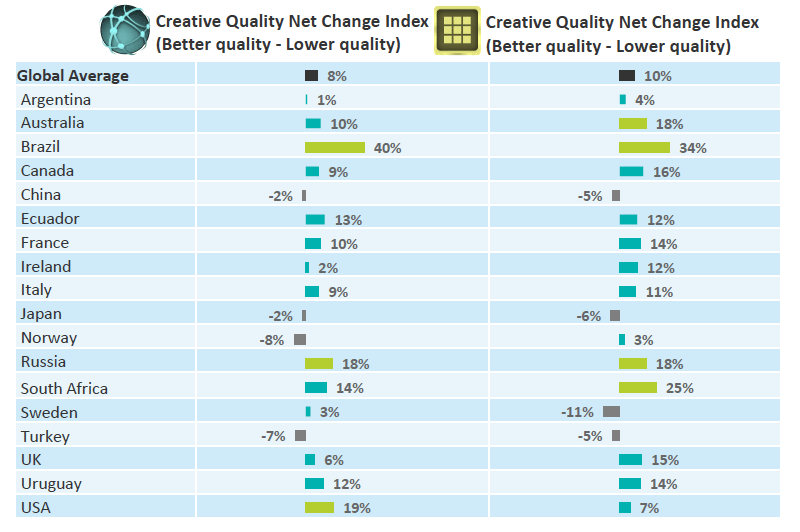 Relevance Index (More Relevant – Less Relevant)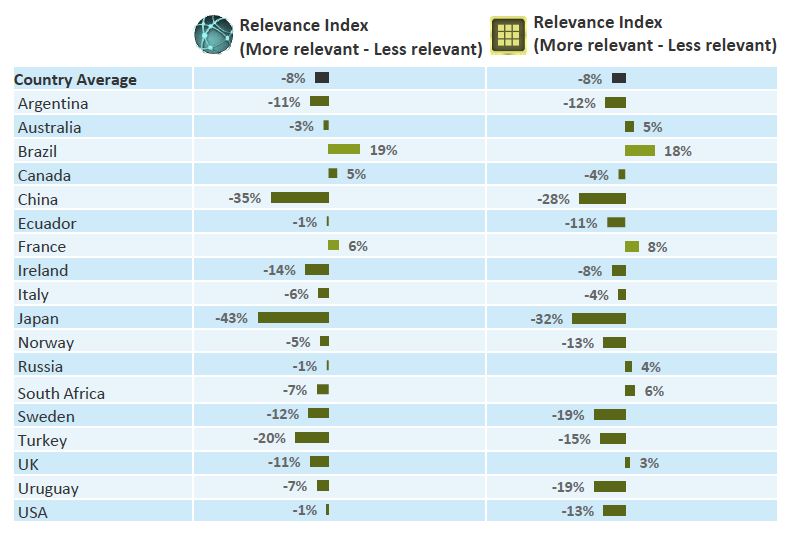 Quantity Net Change Index (Seen More – Seen Less)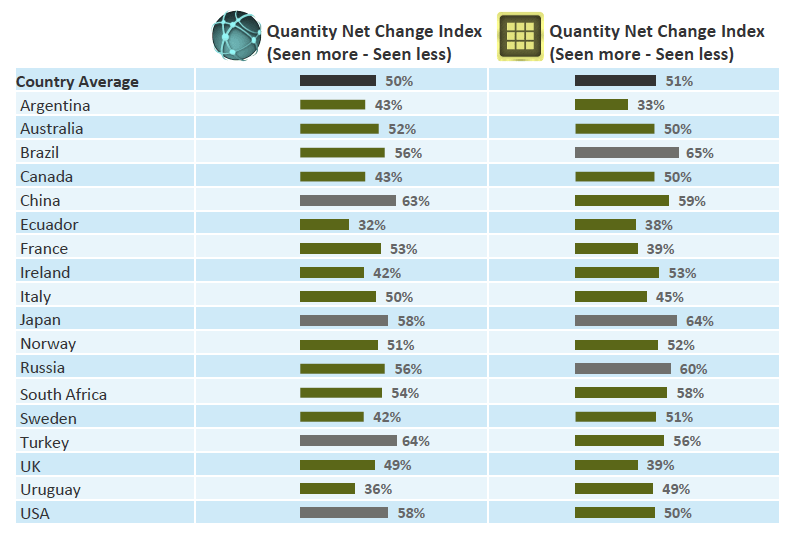 Intrusiveness Net Change Index (More Intrusive – Less Intrusive)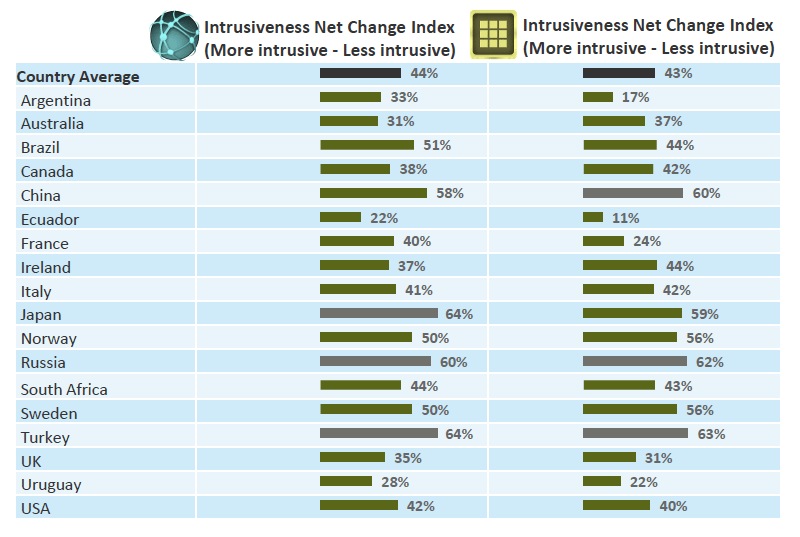 One more point of interest is the type of content and activity that smartphone users tend to use mobile web and mobile apps for. On average, the respondents visit 6 mobile websites and use 6 mobile apps on a typical day. The study's findings show that mobile web tends to be used for utility purposes (shopping, searching for information, booking flights, etc.), while mobile apps are generally preferred for social and personal activities: listening to music, watching videos, chatting and so on. This distinction is further emphasized by the type of content typical of either platform: news, work, travel and education are clearly prevalent on mobile web, while mobile apps excel at providing entertainment content.
Average Number of mobile website/Apps Used (on a typical day)

Average Number of mobile websites Used (on a typical day)

Average Number of mobile apps Used (on a typical day)

Activities on Mobile (Have ever done so)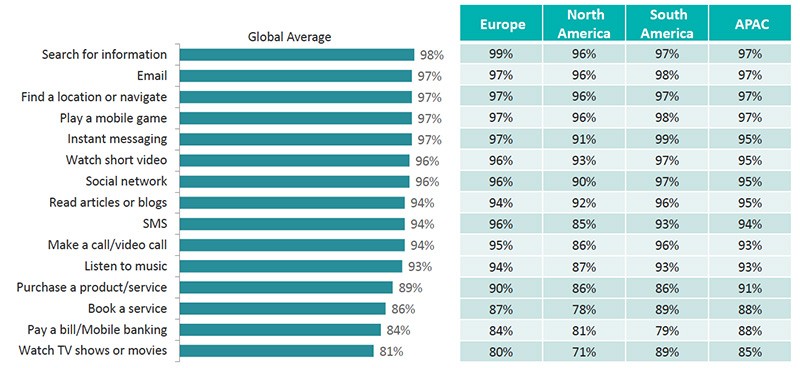 Consumer Preference – Utility/Functionality

Consumer Preference – Entertainment

Consumer Preference – Communications

Information Consumed on Mobile (ever done so)
Consumer Preference – Content Type
BYYD is the world's largest DSP (Demand-side Platform) for buying mobile inventory with the use of RTB-technology (Real Time Bidding).
With our platform you can buy mobile inventory on smartphones and tablets in apps, games and mobile web worldwide.