What is image marketing, how does it boost sales, and what metrics assess brand loyalty among consumers? Let's explain using examples from the BYYD mobile platform.
What is image marketing?
Image marketing is advertising aimed at increasing brand recognition and creating a favorable impression of it.
So, while performance marketing is primarily concerned with achieving measurable results within a predetermined time frame, the main goal of image marketing is to build long-term brand loyalty.
Let's explain why building loyalty is so important.
What is brand loyalty?
Brand loyalty is the trust and attachment of a consumer to a specific company, product, or service.
This psychological phenomenon plays a significant role in business. Because brand loyalty keeps customers coming back and builds long-term relationships with the brand.
In addition to this, brand loyalty is characterized by the following factors:
Preference for a particular brand over others.
Desire to repeat purchases.
A sense of satisfaction with the brand.
Less attention to competitors.
Emotions are more important than logic in consumer decision making.
Why should you boost brand loyalty?
Loyal customers are a valuable resource that's definitely worth investing in.
First and foremost, when people who share the company's values have positive experiences, they tend to spread the word to their friends and family. This, in turn, boosts the brand's reputation in the market.
Moreover, loyal customers often lead to repeat purchases and impact the retention rate – the measure of keeping customers. For example, a 5% rise in the retention rate can result in a 25% increase in profits.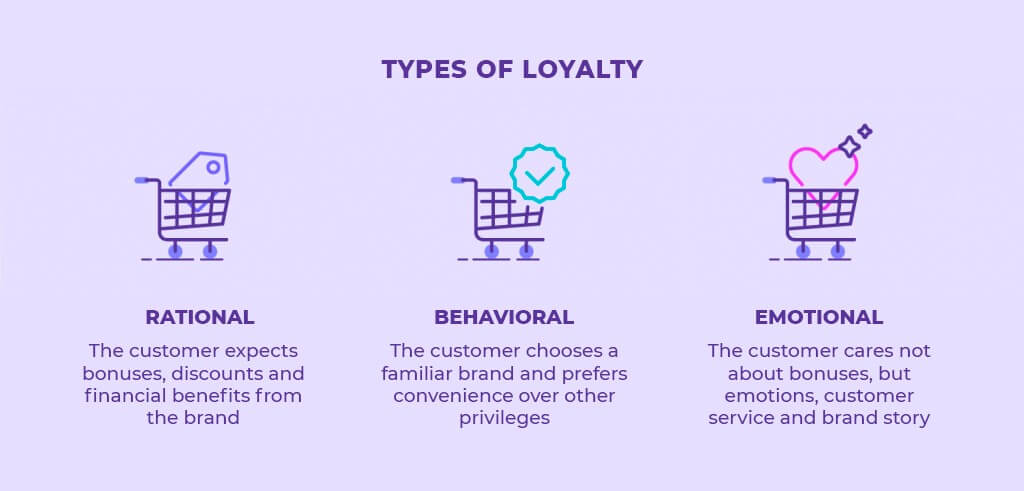 Moreover, sustaining brand loyalty helps in:
Cultivating Brand Advocates
Brand advocates are the ultimate expression of loyalty to a brand. These customers not only use a company's services consistently but also actively recommend it to others and passionately defend the brand's interests.
Reputation encompasses how a company is perceived by its users, employees, and partners. While this process often takes time, establishing trust with your audience is an essential step toward building a successful business.
Increasing Competitive Advantages
High levels of loyalty make a brand stronger in a competitive market. When customers are loyal, they usually keep coming back to their favorite brand. Even when tempting offers from competitors come their way.
About how brand marketing affects the image of the company and nurtures loyal customers, we talked in the article about the advantages of brandformance promotion.
Ways to increase brand loyalty through image marketing
There are many ways to increase brand loyalty with image tools. Here are some of them.
Creating a personalized experience for each customer allows for a deeper connection.
Using purchase and preference data, a brand can provide recommendations and special offers that are precisely matched to each customer's needs.
BYYD's personalized approach is powered by the platform's targeting capabilities. We help brands target their advertising message solely to their target audience. This ensures a high level of user engagement with advertising content.
Gamification is a way of building customer loyalty by including game elements in non-game processes.
This approach is based on the natural human desire for competition. Thus, game elements significantly increase user engagement and make their experience enjoyable and memorable.
At BYYD, we also use gamification elements to create interactive Rich Media banners for mobile campaigns.
Check out Rich Media's banner examples here.
Loyalty programs can be an important part of image marketing because they reinforce a positive brand image and communicate brand values.
For example, according to a study by statista, 7 out of 10 shoppers consider loyalty programs an essential factor in staying connected to their favorite brands at the end of 2022.
A good image marketing campaign is not limited to one format. For this reason, experts advise to use all media advertising tools for the best impact on the audience.
By the way, the greatest results of the use of media advertising is seen through the mobile channel. After all, according to statistics, the share of mobiles in 2023 is 56.8%.
Don't miss out on the mobile audience: start promotion with BYYD and attract loyal customers now.
Email marketing remains an effective way to keep in touch with customers. After all, sending out news about products, upcoming promotions and interesting articles will help a brand to stay in the focus of users' attention.
However, email newsletters shouldn't deceive consumers. Brands need to provide only truthful information.
As consumers note in the statista survey, their loyalty can also be influenced by:
variety of product options;
the availability of the product or service;
data privacy policy;
good customer service;
the quality of the product or service;
quality of the brand's app and website;
the brand's contribution to building a long-term relationship with the customer.
Metrics to measure loyalty
Sometimes professionals make the mistake – believing that brand loyalty cannot be measured. However, this is not the case. In fact, there are certain metrics that reflect the level of customer loyalty.
For example, the Brand Lift study. On the BYYD platform, it allows you to determine changes in loyalty and brand awareness.
In this case, we used Brand Lift research. It showed that after the campaign the awareness of the DoldurGeç app among users who saw the advertising increased by 42%.
In conclusion
The use of image advertising to increase brand loyalty is a long-term approach. However, it's one that can strengthen a company's position in the market, attract new users and retain existing ones.
If you want to use image advertising as a way to increase brand loyalty, the BYYD platform can help you launch programmatic advertising in mobile apps.
Was it useful? Then share it with your friends and colleagues!
For consultations and cooperation – contact through the form on the site.