You probably know that after the release of the iOS 14.5 update, developers will not have access to the IDFA (The Identifier For Advertisers), unless the user himself authorizes its use. IDFA is important to advertisers. All information about who the user is, when and how interacts with advertising was tied to IDFA. Now, each application is required to ask for permission to track (a window with a request).
What does this mean in terms of BYYD's process of work?
There is an alternative — SKAdNetwork. SKAdNetwork allows you to register traffic, analyze the number of downloads, activations, time spent in the application, etc.
Thanks to SKAdNetwork, conclusions are drawn about how high-quality audience was brought by this or that advertising campaign. Even if the user does not give permission for tracking by IDFA, its functionality is enough.
Leading SSPs have already optimized their technologies and the volume of SKAN-compatible ad inventory is growing every month.  For example, in March 2021, only 27% of bid requests were SKAN compliant.  In April, the number increased to 41%, and in May — up to 65%.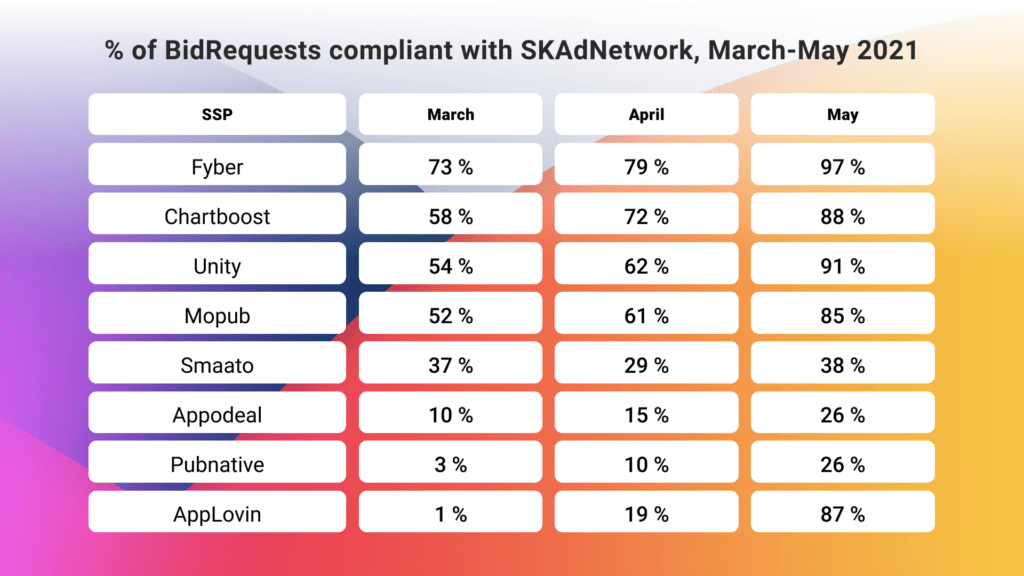 Due to the large number of connected SSPs, the BYYD team during the transition of SSP to SKAN from March to May 2021 was able to restrict target audience only to users who allowed data tracking.
As a result, the changes in iOS 14 did not affect the quality of BYYD's customer ad campaigns during the transition in any way.